Doing something about the homeless issue in Bristol has been my focus for the past 3 years.  Social media has been a big part of what has happened since I started, and my supporters and followers pretty much know the journey HBH has been on and where things are at right now.  It has been about Bristol, the charity mission statement says 'changing the face of homelessness in Bristol' which is true and has been the umbrella over all the things we have achieved so far. I have had enquiries, too many to mention from people wanting to know more, wanting to come and see the work in action, coming to film me and what HBH is all about, and write articles about it all.  Sometimes it is easy to forget that there are people out there who don't yet know what it is we do, so any time I get the chance to be interviewed on the radio, or a documentary crew come to film us I take it.
I have always said that raising awareness is important. We're a charity that relies on donations and the more people that know about what we do, the more likely we will get the support needed to do it.  That has been the case and we have seen a trickle go to a steady flow of a range of supporters wanting to get involved, whether it is volunteering their time, donating funds or hosting charitable events in our name.  Last year we had dozens of volunteers coming to help as part of their employers charity days, and now we have corporate partners who have us as their charity of the year.  This is all good news, we are growing and moving forwards, and I use social media to let people know what is going on and share in our successes.
But there is another bonus to all of this. Word gets around quickly online, and of course television exposure like the One Show, or Songs of Praise, helps spread it too. As a result, connections with other cities and other homeless groups in them develop.  I have been invited to go to meet like minded groups that want to make a difference along the lines of a hand up, a housing first solution, that they could do themselves, like we have. And we invite any and all to come and see us and the project now. To see what can be and is being achieved, the difference actually being made, and talk to those who are benefiting from it – our residents, bus guests, those who would be homeless still without HBH.
Other cities have a homeless problem too, and when I recently went up to Manchester I saw first hand how bad things are there.  Since I started, in Bristol, the number of groups and teams out there helping has increased but in other places this is not necessarily the case.  So much goes on in Bristol, for the homeless, that we have even heard people want to come here because they think they will get better help.  All of this is great of course, but the real issue is to deal with homelessness effectively, you need to get a roof over people's heads first. That's the challenge we face and that is what HBH do using the container living model – it is simple, it is cost effective, it is quick and it gives the first stepping stone to helping turn a person's life around.
A lot of what I do is to promote HBH, get others on board to support what we're doing of course, but also to say look, this is do-able, you can do it too.  I stress that it has to be done well, that it is not enough to just house someone. HBH is a project, we provide temporary accommodation but we do more than that. We all know that there is a myriad of reasons why someone might end up on the streets, but whatever put them there, we also know that being on the streets produces problems and issues in itself. Harrowing and sad stories emerge of life as a rough sleeper, of surviving on the streets and what that can involve. We also know that no one project can do it all, all by itself. That's why we 'sign post' and encourage our residents to access all they need in terms of support and involve them in the project themselves. Yet the nuts and bolts of what we do is give people somewhere to live, somewhere to feel safe and secure whilst they get things sorted. And this is the message I want to get across.
Often, visits to other towns and cities are similar, visitors from other councils or groups are similar too – HBH gets praise for what we do, our success stories are warmly received, and we support other groups where we can. We make new links with others, encourage more people to get involved and we know that doing this is making a difference, not just to our project, or to Bristol but further afield.
I'm happy to give talks, to speak to audiences of all kinds, from scouts, to students, to councils to corporate, to share with them what HBH is all about. It is important to do this, what I have learned whilst HBH has developed is that it is something that can be rolled out elsewhere and I want that to happen, I have always said I am always open and happy to share and we should all be on the same page of trying to do something about it. So when I get an invitation to go to America to share what HBH is all about, I am intrigued to go.
Newark is in New Jersey USA.  I wondered if I should go, if I could spare the time, it is a long way and it would mean a week away from the project where I go every day. But I am always open to learning something new or different that could benefit us at HBH so I decided to do it!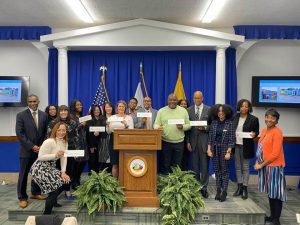 I expected it to be much the same as other visits, I looked forward to meeting new people tackling the same issue and finding out about what they do, like usual. The first clue to this visit being different came with the itinerary but still, I simply did not expect this. I have been really taken back by this visit, for one thing, I didn't know they knew so much about me and what I've been doing.  They had done their research! I was to give a talk, as I often do, but this was not the normal group of people I was speaking to. This was a delegation of important people, holding high office, the decision makers of Newark.  Everyone from the Mayor, the Chief of Police, a top Judge, to the Head of Health and more besides. The venue was impressive on its own, and inside I soon realised these were people taking this issue, homelessness, very seriously indeed.
I have learned why. The scale and numbers of those on the streets there is on a different level. The numbers in Newark are even higher as it has come to light that nearby New York have off loaded hundreds of their homeless to the area as well. Those that are on the streets 'pan handle' (beg) to try and survive and tend to be in areas where there is the most footfall. I was driven around the city of Newark, not sightseeing but to see the homeless people sheltering on the street. We drove and at the Penn station in particular you could see where people shelter and all the bundles of clothing stacked in corners. I suggested straight away that a container could be used to store this, dry and safe and Bristol Council are thinking of doing the same.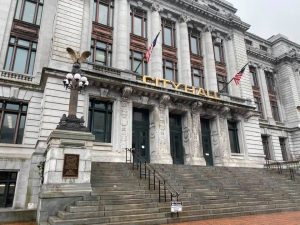 Last year, their plan was to put money into shelters, but just like in cities here, many of the homeless do not feel safe in them so that was not going to solve the problem. The city, like any city, wants to attract business and workers for prosperity for the city but now they are facing the homeless street sleepers issue in a different way. They want to not just move them on, away from the busy station and commuters, they want to do something to solve the problem.  And that is why they invited me. They have seen what HBH do and here I am discussing with them the wider implications of working with other agencies. A 'joined up' approach and that is why they have brought together all these policy makers, the people who get things done, to listen to what I have to say.
One really positive thing is how the church is trying to centralise feeding stations and other groups have come together, working together under one roof to feed and clothe the homeless of the city.  Even though not all groups are on board, it is similar to what Bristol wants to do but it needs someone driving that, that should be council led. I found out today that someone at the graduation ceremony for my honorary degree, who listened to my speech there, has contacted the HBH office and they are from the council Street Intervention Service and want to see what can be done in terms of community engagement.  I can now go back with new knowledge from my visit to Newark to put forwards, which could be a positive step. In Newark, the police work with the courts and the city works with everyone to see how they can improve and make things better for the homeless. That is what should be going on in every city. For them, though, the only bit missing is housing and they now want to think outside the box so that's where our project, container living comes in. That's why they contacted me.
It has been a real eye opener in many ways but also it goes to show that no matter where you are, whatever city or town or even country, homelessness involves the same issues, the same problems and the solution that can be applied is the same too. When we say 'Together We Can Make a Difference' we were thinking about our local community, but as our HBH project has grown and evolved, now it reaches even further afield.  I have had a fantastic productive visit and can't wait to go back again to see what Newark achieve.
Jasper