"I learnt what it is to be invisible"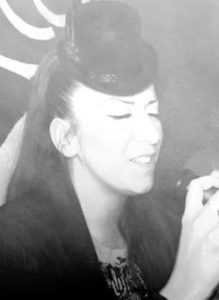 Friend of HBH Rhianna shares her story of homelessness, dark times, and how making good, yet small choices led to opportunities she could never have dreamed of..
When I was a little girl I wanted to be a singer, but I learnt at an early age that life isn't always fair and those that love us can't always protect us from the evils of this world. Growing up mixed race, in a small town in South Wales I experienced a lot of racism. One of my earliest memories of school is lying on the concrete playground, fetal position age 5. I was surrounded by a group of other children all throwing stones at me chanting the word 'paccy' and as I looked up for help, I saw at the top of the steps that led from the playground to the school, two teachers. They were sipping their mugs of coffee….. just watching.
Sadly that wasn't the worst thing to happen to me as a little girl and I don't think that feeling of helplessness has ever really left me. I came from a good family, one that loved me and luckily my parents were able to put me into a private school, but by the time I was 9 the damage was truly done.
The first time I ran away from home I was 14. The police brought me back after a couple of days but I had started using drugs and as they took hold, I became more and more lost from my family. You see, drugs don't care how much money you have or what colour your skin is or who you vote for. Drugs will destroy your life and the life of those that love you, no matter who you are or where your from.
I spent the next year bouncing from one drug house to the next as my addiction became worse. One evening I had gone to score and was in the bathroom injecting when I had what they call a 'bad hit'. I started convulsing on the floor, needle still in my arm. Froth was coming from my mouth and my eyes were rolling back in my head. Things get a bit blurry after that point. I remember calling out for someone to get an ambulance. The guy that had sold me the drugs came to the bathroom door, took one look at me and said 'its not an ambulance you need it's a hearse'. He walked away, returning with two others that dragged me out into the dark street and left me on the curb. Thankfully an ambulance arrived and took me to hospital. They got me on a drip and took bloods to see what I had put in myself. Then the doctor showed up, but unfortunately he didn't have a very good opinion of drug addicts. He called me a stupid girl and said that I was a waste of his time and resources. So I pulled the drip out of my arm and signed myself out of hospital to his now, very loud protests that I could die. What he couldn't understand is that no one aspires to be a drug addict, it's not a lifestyle choice that anyone would ever make.

By the time I was 16 yrs old I was a full blown drug addict living on the streets of Southampton and that's whenI learnt what it is to be invisible. I spent my days looking for safe places to sleep, it was much safer to sleep during the daytime. At night I would try and find somewhere dry to get through to the morning. I was offered hostel places from time to time but either got kicked out or turned them down, preferring to sleep on the streets so I could use drugs. I wasn't ready to stop and I wasn't able to. I think most substance abusers are in the same place, we are all just trying to escape something that's inside of us. So I stayed on the streets stealing, busking and begging to feed my habit. And yes, I spent the money on drugs not food but that money kept me from putting myself in much more dangerous situations and if you'd ever spent a night on the streets you'd understand the need to numb yourself too. But I am still amazed and grateful to this day by the kindness of strangers that I met during that time.

It took the murder of a friend to send me running back to Wales. She had had her throat cut in an underpass in Southampton city centre. A day of hitch hiking and I found myself once again at home with my Mum. The next day I took the bag of drugs I had on me and on an impulse threw it into her coal fire. I immediately regretted this but realising I had nowhere else to get more drugs from, I went to bed and slept for 3 days. I had no way to know what the future would have in store for me in that moment, but I knew if I continued on the way I was, I would not live.

You see bad times just like good times, come to an end.

And so it started with one immediately regretted small choice, a better choice and the more good choices I made, the more things got better. It wasn't easy by any means and I had a lot of help and support but I kept making little choices everyday that led me to life instead of death. Unfortunately at age 20, I found myself in an abusive relationship and that led me to flee my home during the night, to Bristol. But sometimes bad choices just like good ones can lead us to a new and unexpected life. So I kept making the small, good choices and they led me to opportunities I could never of dreamed of. I never knew when I couldn't see a future or imagine anything good at all, that one day I'd get to manage one of Bristol's best venues. I never knew I'd get to sing on the same stage as people I listened to on the radio, I never knew I had a future, until I chose it.
Written by Rhianna.