At Help Bristol's Homeless we're fortunate to receive support from several local employers. Some companies have 'Corporate Social Responsibility' schemes, allowing employees to use some of their working hours to volunteer. Other companies fund raise – whether it's by having cake sales, sporting events, sleep outs, auctions. Whatever level of support we receive is hugely appreciated and provides the vital help for us to continue doing what we do.
This year, Bristol based financial services firm, Hargreaves Lansdown voted HBH as their charity of the year!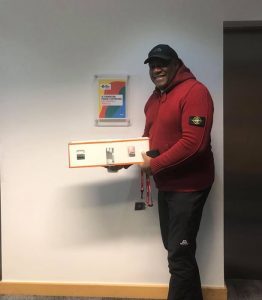 Jasper recently went to meet them to hear all about their fundraising activities, employee volunteering opportunities and how we can all work together to make a difference. He took along a model of one of our converted containers to showcase what can be done with their help.
We're excited to announce that we'll be holding an art auction, hosted by Hargreaves Lansdown. Taking place on 21 May. More details below.
Thank you to Hargreaves Lansdown, and all of our other corporate sponsors. It's fantastic to see employees inspired by our cause, and the lengths people go to to help us.
If you're an employer, or work for a company that you think could help us through fundraising, employee volunteering, or if you have any other ideas, we'd love to hear from you!
You can contact us on social media or email: contact@helpbristolshomeless.org
Thank you for your support!
Jasper and the HBH team