It's been a busy couple of weeks and we are excited to bring you our latest update.
With thanks to Paul O'Brien Roofing & Building; we have had the great pleasure to work with Dexter Building Designs to bring you the designs for the Help Bristol's Homeless Micro Flat Concept.
These guys have been incredible. They have taken our vision and translated it into this awesome Micro Flat design.
The Design:
The shipping containers will be finished with a internal insulation cladding system providing good thermal efficiency and a hard wearing internal finish.
Solar panels provide power to each of the units for heaters and shower system.
There is a secure service area that will provide easy maintenance access for electrical hookups including the solar panels, drainage connections, ventilation from the shower rooms.
Wide external walkways and access provide a clear view of the unit to help maintain a secure environment for all the services users.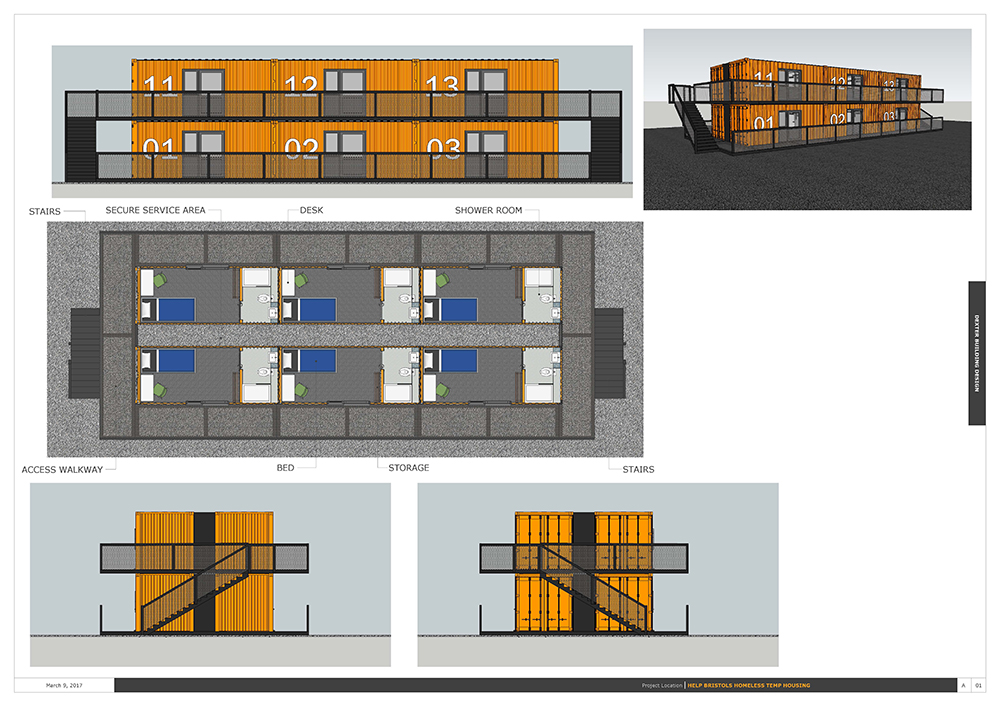 Sponsor a Container:
Here's where you all can get involved. As a social enterprise we are reaching out to find individuals or business to sponsor a Micro Flat.
What does this mean?
When you look at the Micro Flat design concept, each container is numbered. Instead of these numbers each container will have it own name. If you help us by sponsoring a container we will name that container after you or of your business. You will also feature on our website and we will keep you unto date with our progress.
This is an incredible opportunity to part of something BIG. With your help our mission is to change the face of homelessness in Bristol.
How to become a Sponsor?
Becoming a Micro Flat sponsor is simple and easy. Just fill out our contact form and one of our team will be in touch with you shortly.