Let me tell you a little bit about myself..
I was born in Jamaica and came to Bristol at a very young age. Most of my childhood was spent in South Bristol – I attended Withywood School then moved onto Bedminster Down School. I spent most of my youth clubbing, and getting involved with football violence until the age of 21 when I decided to join the British Army – where I served 12 years. It was a great experience, great friendships made, a great family bond which I still have today. Served in several bases including Northern Ireland and The Falklands, I left the Army in the early 90s, and went into retail back in Bristol, setting up clothes shop on Park Row and Park Street. Followed by a year back in Jamaica in which my mum passed away, I returned to Bristol running a couple of restaurants on North Street. In 2008 I worked in the security industry which included close protection for the likes of Kanye West and diplomats. My career took me all over – so I have seen how many people live. But fortunately myself I've never been homeless or had any addictions.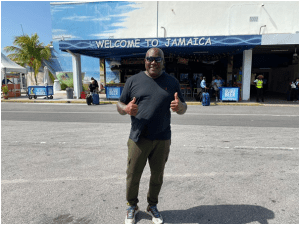 So why homelessness?
One very cold winters day in 2017, I was running in Ashton Park. It was bitterly cold which made me think – how do homeless people cope in this weather?! I needed to do something, so decided to do an outreach. I walked around town with a rucksack, hot flasks, sleeping bags and warm clothing. The following week my wife joined me, a small group formed. We ventured to the Bear Pit where we handed out essentials.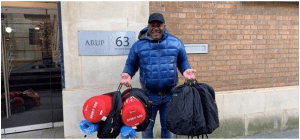 After that I formed the Facebook page 'Help Bristol's Homeless', appealing for warm clothing, food and anything that would make the life of a homeless person more comfortable on the streets. I felt I could do more though. When I asked the homeless people how I could help, the answer was always accommodation – "A roof over my head, please Jasper". At first I thought this was out of my remit, but little did I know I could get this done.
Malago Road
We were overwhelmed by the generosity of the Bristol public, and we needed a hub to work from. I appealed on Facebook for a porta-cabin, and a friend offered a 38ft caravan – which was gratefully accepted! Another friend offered a piece of land, and another offered to transport the caravan to our site. A common theme of the story was appearing – friends. So we then had a cabin on this land on Malago Road (Bedminster). We began using this as an office, a store room, and a living space for 4 guys.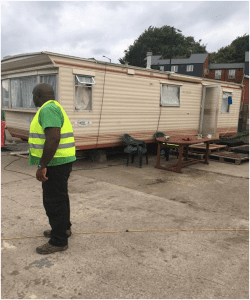 I would go out in my small van with supplies for the homeless and invite them back to Malago Road. Some days all you could see was a van pulling up, a big black guy opening the doors, speaking to a few homeless guys, and all their belongings going into the back of the van, then us driving off into the sunset. I'm surprised I wasn't on police 5!
Tucked away in a corner of the Malago Road site was a 30ft shipping container which I decided to convert into a shelter – 6 beds in total, which helped a lot of people out of the cold. This gave me the idea. I sat with a couple of the guys and said 'I'm going to convert a shipping container into a flat'.. they laughed! I had no knowledge of this. Although I had lived in containers in Afghanistan and Iraq, this had no bearing on my decision.
I again appealed to friends and was offered a 20ft container which I gladly accepted! I altered the container – adding windows and doors. Luckily it worked out well! I engaged a builder who became a volunteer, and fortunately one of the homeless guys had good experience of construction, so we just cracked on! That was our first container, 'Carl's Haven' – named after the donor's son who sadly passed away in a motorcycle accident on the Portway.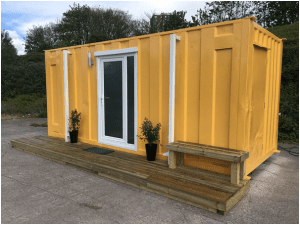 This went viral and was seen all over the world!
So where are we now?
Bristol City Council have given us a piece of land for 5 years – nearby in Bedminster on Spring Street which we have recently moved to. We now have 14 dwellings (one of which sleeps 2), a canteen, restaurant, launderette, shower/toilet block, and a double decker bus which sleeps 12 people. We are building a community.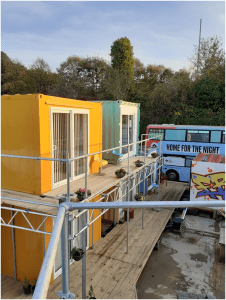 I'm not saying this is the solution to homelessness, but we feel it could go a long way to help in the interim. On the Malago Road site, we had plenty of residents move on to get jobs, flats, and back into the community – the ladder of life and society. We're not saying container living is one size fits all – it's not suitable for everyone but does work for some. It is a great alternative to bricks and mortar whether temporary or long term.
Homelessness is a massive problem in Bristol, and in this country. It is right up there with climate change, immigration, and Brexit. Anyone of us could find ourselves homeless, as they say – we are all only 2 to 3 paychecks away from homelessness.
So, why me?
I saw a problem – I saw ex army friends on the streets, up and down the country people suffering and dying on the streets. I felt that this is something I can do to help, and I'm hoping even if it's doing outreach, you could do the same. It's possible to build a village, you could actually convert a shipping container. This is what I chose to do. I saw a problem in my city, and decided to help. I wanted to help. You can too. Our saying is 'Together we can make a difference'. You are all my friends now, and if you get in touch we can sort Bristol's homelessness.
Together as people we can make a difference. Please make that your motto too.
Thank you, Jasper