An update on our Christmas appeal and how it is helping so many across Bristol..
In the run up to Christmas we ran our annual shoe box and rucksack appeal. This appeal is one that we run every year, but this year it felt even more important. We have been completely overwhelmed with the response, and are hugely grateful for all your kind donations.
What's fantastic is the range of members of the community we've received donations from, showing that our community cares – not just one group or type of person. We received donations from schools, offices, hospitals, tradesmen, shops, student groups, a huge range of local businesses, children who've taken on the challenge to help, and hundreds of individuals across Bristol. It's so great and reassuring to know that we live in a community full of generous and caring people.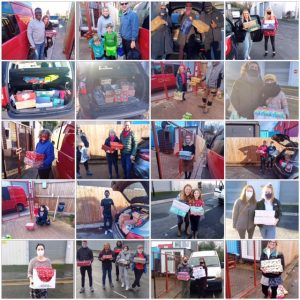 We initially hoped to collect 100 shoe boxes and rucksacks, but the final count was approximately 700 shoe boxes and over 350 rucksacks!! Thank you to everyone that supported our appeal.
You have helped support Dean Street Hostel for women, Spring House Refuge for women and children, BOSH outreach, street sleepers. Shoe boxes and rucksacks filled with food and sweet treats, presents and other essential items for homeless people, are now with people that need them.
On Christmas Eve, along with BOSH, Southmead Hospital employees, and several other volunteers, we ran an outreach day in a park in the city centre. We supplied a warm Christmas dinner for the homeless, and also gave out rucksacks and shoe boxes. It was a great success, feeding so many who need it, and bringing a bit of Christmas for those that aren't as fortunate as many of us who have a warm safe place to spend Christmas with lots of food and presents.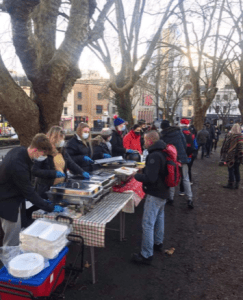 Jasper also keeps a supply of rucksacks in his van and regularly goes out and about across the city to hand them out to street sleepers. So we're always grateful to receive filled rucksacks as they are much needed throughout the year, not just at Christmas.
We hope you all had a lovely and safe Christmas, and we'd like to thank you for  helping to support us. 2020 has been a challenging year for everyone, so to have support means so much and keeps Help Bristol's Homeless going.
Here's to a happy, healthy and better new year for everyone, from everyone at HBH