On Saturday 18th May, we held an Open Day on the Malago Road site.
We have been here for two years now and from starting with a caravan, we now have 15 finished micro-flats which we were keen to show off.
We also have a partly finished kitchen, A shower block being completed, a laundry, and of course HBH 360 Winx – the bus!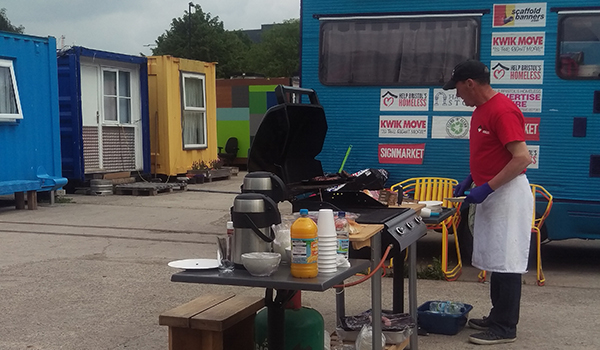 Resident Rob, assisted by resident Nick, got the BBQ up and running and a steady flow of visitors came during the day to see what we are all about.  38 in all – from the very young to slightly older, keen to see inside the flats and have a chat about it all over a hot dog or a burger.
One group of visitors came all the way down from Birmingham and left inspired to start something similar in their home city.
Trustee Lisa joined us, as did Tania and Zoradi and Jasper, to talk about what we do and show off what we have achieved so far.
We will soon be leaving Malago Road to go to a new site but the sun shone and the atmosphere was just as warm.
Thank you to all who supported our day.