It can often be hard to know what to say to someone homeless. We can feel awkward, and end up not saying anything at all. Reaching out to someone on the street can be so impactful.
We have created a 'conversation starter can'. A small container that could be filled with socks, gloves, a toothbrush, tissues – anything you think would be helpful.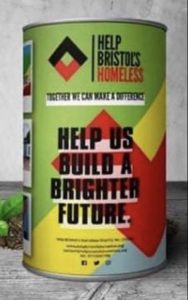 These are available from our office on Spring Street (just off York Road) for just £2.50
You could make a difference by starting a conversation with someone homeless and giving them a few comforts. The cans also have all of our information on so they know where to find us and how we can help.
Get in touch and come down to Spring Street to get a can – it will make a huge difference.
Thank you!