With the clocks changing and the nights drawing in there has being a definite dip in the weather. It's more important than ever to reach, and help and support those living on our streets.
Whether it be new dry clothes, a sleeping bag or some hot food and drink, accompanied by a warm smile, Help Bristol's Homeless is trying to make a small difference.  Little things can make such a big impact when you are cold, wet, and hungry and have no safe place to stay. In an ideal world Help Bristol's Homeless would be able to offer every homeless person a place in one of our converted containers, or an alternative roof over their heads.  But in the real world this isn't possible, some street homeless just want support to stay warm, safe and healthy on the streets, others have addiction problems which are hard to solve and money for funding bed spaces is not infinite.
BUT we can make a difference.
And we need your help.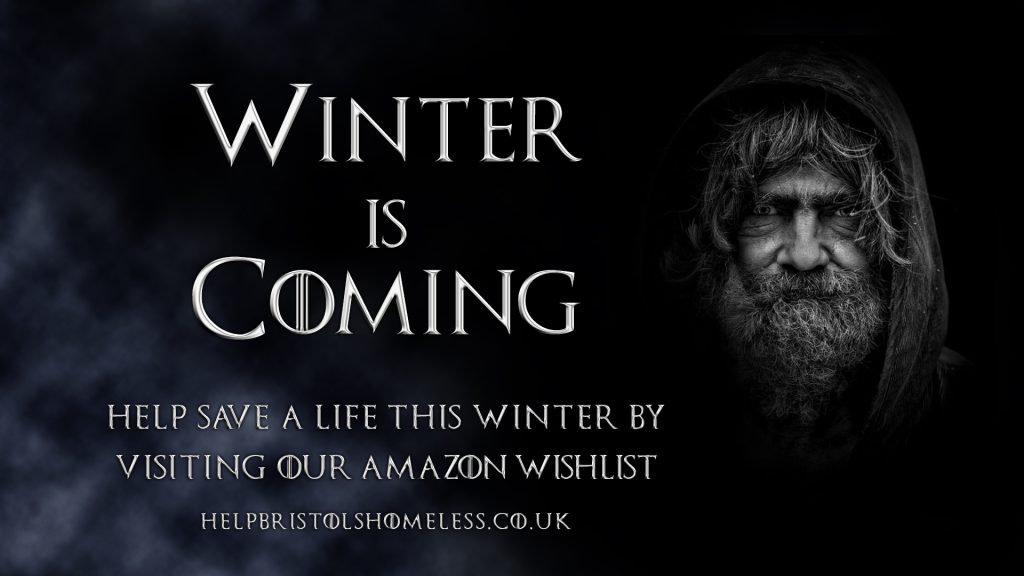 We need warm clothes, shoes, socks, and underwear, think what it's like when you get caught in a heavy shower, how uncomfortable you become, and then imagine not having access to dry clothes and a warm shower.  Donations of toiletries, such a roll on deodorants, and women's sanitary products, help give a homeless individual a feeling of cleanliness and normality.  A clean dry sleeping bag, for a warm safe night, out in the open, in a tent, a shop doorway or hidden away from view .
And hot drinks and food to warm a homeless persons core, to keep them healthy and able to cope with whatever the weather throws at them next.
Please can you make a donation, whether something you have brought, and is in very good condition, but you no longer need, something you would be willing to buy and donate or a gift of money, so we can buy what the homeless of Bristol require.
To help you we have an Amazon wishlist, which you can either purchase from or use as a guide. https://www.amazon.co.uk/gp/registry/wishlist/QI9XU159KGZZ/ref=cm_wl_list_o_0?
Many thanks for your support, let's remember although winter is Coming we can all do our bit to warm those less fortunate than ourselves.